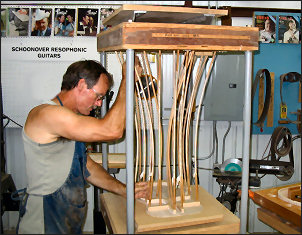 Having grown up in a family of bluegrass musicians in rural Southern Oklahoma, Kent started playing his father's old D-18 at age 10. By age 13 he was bitten by the 5-string banjo bug. At that time, one of his younger brothers started playing the Dobro. In 1973, with the help of family and friends, he had saved enough to buy a 1935 Gibson banjo with a custom 5-string neck from Don Thomas. Don was well known around Oklahoma for his great sounding custom banjos as well as for his banjo picking. Hanging out at the bluegrass festivals through the 1970s and seeing many of Don's custom banjos being played by proud owners like him, Kent was inspired to write a paper in high school about his ambition to become a luthier.

With his collection of "Pickin" and "Frets" magazines, which were loaded with great articles on luthiere, he studied everything he could find on the topic. His studies included many trips to the local libraries to research sources and acquiring every book he could find on instrument building and repair.

In 1985 Kent set up a small workshop where he repaired instruments and built furniture. Between repairing broken pegheads, regluing bridges on flattops and set-up jobs, he kept busy building ladder-back rocking chairs, stools, drop-leaf tables and other pieces from the local hardwoods which he felled and milled himself with his homemade Alaskan style chainsaw mill. This was done in his spare time after his full time job as a heavy truck mechanic and raising a family. Kent recalls it was during this period that he built his 18' cedar-strip canoe that hangs in his guitar shop ready for that next opportunity to slide into his favorite stream for a float and some fishing.

The first Schoonover Resophonic Guitar was built in 1992. It was somewhat modeled after the R.Q. Jones guitar his younger brother had played since 1979. That first guitar turned out great. Kent knew right away that he would have to build another. He had found his calling. Besides, every time he looked at his stash of black walnut he now saw guitars instead of rocking chairs.

Although Kent was proud of his first reso, he had ideas on how he could improve on the design and the construction methods that would surely impact the tone and amplitude in a positive way.

The Schoonover Resophonic Guitar has always been a completely open design; no soundwell, no posts, no baffles.

Kent realized that the greater stress on the reso body was the end to end tension of the strings, not the downward force that the strings exert on the cone. He therefore designed a precision machined top/cone support that ties the neck block to the tail block and is bracketed into the sides. This creates a very stiff and rigid rim assembly. A strong and stiff platform for the cone is very important to the sound production of a reso. This is achieved in the Schoonover design without adding a soundwell or support posts to the back. The back is lightly braced and arched into a 15' radius dome. When coupled to the tapered rim assembly, this makes for a lightweight but very strong resonant chamber devoid of any unnecessary internal encumbrances.

The arched back which is free of posts, the strength of the lightweight design, a superior connection between the neck and body, the individually tuned spider bridge; these things and Kent's attention to every other detail result in an incredibly responsive instrument with a wonderful voice, great amplitude and sustain.


RESOPHONIC GUITARS
"Quality Handmade Instruments"
Kent Schoonover
(580) 653-2852